FLORENCIA BÖHTLINGK
Florencia Böhtlingk's painting belongs to an archaic but still in force Amazonian tradition, which is communicated in South America through its rivers. In her paintings, landscape appears as the result of a desire for appropriation. Psychedelic by the weeds and near the birds. From the Río de la Plata, in terms of its constructivist affiliation and very close to Street Art for its layers of color.
Florencia Böhtlingk (b.1966, Buenos Aires) does not paint by memory but what is in front of her: a boat, a meeting with her sisters, the jungle of Misiones, the offerings to Iemanjá on the banks of the Río de la Plata…These visual experiences are transferred to paper when the experience it is alive, like a jump from intention to act and starting from a loose geometry to approach the motive; using color as a trigger.
Böhtlingk studied at Escuela de Bellas Artes Prilidiano Pueyrredón and Escuela Ernesto de la Cárcova in Buenos Aires. She attended workshop by artists Jorge Demirján, Luis Felipe Noé and Gabriel Messil. Between 1994-1995, Fundación Proa awarded her a scholarship to attend Guillermo Kuitca´s workshop.
Florencia Böhtlingk´s works have been the subject of numerous solo shows at Hache galería, Buenos Aires (2018); Galería Zavaleta Lab, Buenos Aires (2014); Museo de las mujeres, Ciudad de Córdoba (2011); Galleria Blanchaert, Milano (2010); Galería Francesco Zanuso, Milano (2009); Galería Dabbah Torrejón, Buenos Aires (2009); Hogar Collection, New York (2007); María Casado Galería, Buenos Aires (2007); Belleza y felicidad, Buenos Aires (2004); Belleza y felicidad, Buenos Aires (2002); Centro Cultural Ricardo Rojas, Buenos Aires (2001).
Her group exhibitions include: Paramí 2 (2021) y Paramí (2020), PM Galería, Buenos Aires; Una historia de la imaginación en Argentina. Visiones de La Pampa, el Litoral y el Altiplano desde el siglo XIX a la actualidad, curated by Javier Villa, Museo de Arte Moderno de Buenos Aires, (2019), ; Amigxs, el futuro es nuestro. 10 años de pintoras, curated by Lara Marmor, Usina del Arte (2019); Pruden, Guerrieri, Böhtlingk, curated by Claudio Iglesias, Galería Sly Zmud, Buenos Aires (2017); Paisaje, el devenir de una idea, Centro Cultural Kirchner, Buenos Aires (2016); Arellano Bohtlingk Londaibere, Filiaciones, Fondo Nacional de las Artes (2015); Bellos Jueves, Museo Nacional de Bellas Artes, Buenos Aires (2014); Política y Belleza de las tareas, Museo Macro, Rosario (2012 ); Pintoras, Centro Cultural Borges, Buenos Aires (2012).
Publication of her work include Florencia Böhtlingk. Pinturas 1992-2012, Patricia Rizzo Editora, Buenos Aires (2013); Misiones (2015)and Río de la Plata (2018),two books of Böhtlingk´s watercolorspublished by Mansalva, Buenos Aires.
In 2016, she presented Los colonos de La Flor [La Flor settlers], a documentary portrait of a small agricultural and pastoral village in the jungle of Misiones, Argentina. The film has participated in documentary festivals around the world receiving awards and immense recognition.
In 2017, Florencia Böhtlingk received the second prize at Banco Central Award and a third prize at Fondo Nacional de las Artes in 2019.
Work by the artist is part of the permanent collection of the Museo de Arte Moderno de Buenos Aires, among others.
She lives and works between Buenos Aires and Misiones, Argentina
Iemanja 2021. Series Río de la Plata,
2021
Florencia Böhtlingk
Acrylic & oil on canvas
39.4 x 49.2 in
Visita al Mamo. Series Misiones,
2021
Florencia Böhtlingk
Acrylic & oil on canvas
78,7 x 61,4 in
Restos Umbanda, Primavera. Series Rio de la Plata,
2020
Florencia Böhtlingk
Oil on canvas
38.2 x 52.4 in
Chamana virtual en la isla. Series Río de la Plata,
2020
Florencia Böhtlingk
Oil on canvas
38.2 x 42.1 in
Tarde mirando aves. Serie Rio de la plata,
2017
Florencia Böhtlingk
Watercolor on paper
9.8 x 13.8 in
BOOKS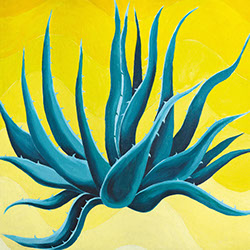 Pinturas


1992 – 2012
Patricia Rizzo

EDITORA
BUENOS AIRES
201

3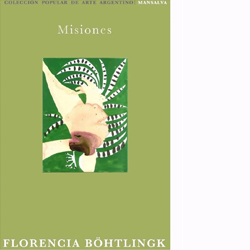 MISIONES
Mansalva


BUENOS AIRES
201

5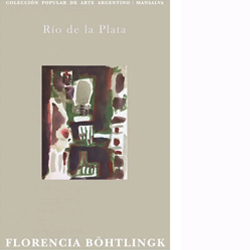 rÍO DE LA pLATA
mansalva


BUENOS AIRES
201

8