FOTO ESTUDIO LUISITA
Foto Estudio Luisita is a photographic archive of the Argentine show business that portrayed, among many treasures, the golden age of revue theater.
Foto Estudio Luisita was founded by Luisa Escarria (Cali, 1929 – Buenos Aires, 2019) and her sister Chela. Born into a family of photographers, they emigrated from Colombia in 1958, after what is known in Colombian history as "La Violencia", and settled in an apartment on the mythical Corrientes Avenue, which simultaneously served as a home and studio until 2009.

Between 1958 and 2007 and with a Hasselblad camera, Luisita portrayed revue-theater stars, models, dancers, comics, singers, musicians, actors, contortionists and acrobats, tropical bands and drum troupes on stage and in the intimacy of the studio creating some of the most iconic images of Argentine popular culture; hundreds of celebrities that can be found in the more than 40,000 images contained in the archive. Later, books of models, prostitutes, cumbia musicians, children and dogs would be added.

In 2009, Sol Miraglia (Buenos Aires, 1989), a young photographer and filmmaker who at the time was working in a camera repair shop, met Luisita, established a strong bond of friendship and joined the studio to continue the legacy. Since then and together with an expanded work team, the tasks of inventory and cataloging, conditioning and preservation of the archive have been carried out, starting the important task of enhancement of the material from a contemporary perspective.
In 2018, Sol Miraglia and Hugo Manso presented the documentary Foto Estudio Luisita, which portrays with respect and simplicity the life of the Escarria sisters, the memory as an archive of the past and the role that Luisita had in a medium mostly dominated by male photographers.
In March 2019, Luz de noche, the first exhibition of the studio was presented at the Fotogalería del Teatro San Martín, curated by Lara Marmor, Ariel Authier and Bruno Dubner. Luisa passed away two months later.
Sees the opening of Temporada fulgor, an exhibition curated by Sofía Dourron at MALBA that presents a snippet of the largest body of work that the sisters decided to preserve: the magazine theater photos taken between 1964 and 1980.
In November 2021, Malba – Museo de Arte Latinoamericano de Buenos Aires presents Temporada fulgor. Foto Estudio Luisita, an exhibition and a book published with it, that draws on the largest body of work the sisters decided to preserve, that is, the photos for the revue theater taken from 1964 to 1980.
Moria Casán,
1972
Foto Estudio Luisita
Gelatin silver print
14.6 x 14.6 in
Edition of 5
Giclée print
39.4 x 39.4 in
Edition of 5
Liliana Dumaine,
1965
Foto Estudio Luisita
Gelatin silver print
14.6 x 14.6 in
Edition of 5
Giclée print
39.4 x 39.4 in
Edition of 5
Vanessa Show,
1976
Foto Estudio Luisita
Gelatin silver print
14.6 x 14.6 in
Edition of 5
Giclée print
39.4 x 39.4 in
Edition of 5
Giclée print; printed 2019
9.8 x 9.8 in
Unique piece
Las gromas,
1973
Foto Estudio Luisita
Gelatin silver print
14.6 x 14.6 in
Edition of 5
Giclée print
39.4 x 39.4 in
Edition of 5
Los Ranqueles,
1972
Foto Estudio Luisita
Gelatin silver print
14.6 x 14.6 in
Edition of 5
Giclée print
39.4 x 39.4 in
Edition of 5
Noche porteña,
1965
Foto Estudio Luisita
Gelatin silver print; printed 1965
9.4 x 7.1 in
Vintage print. Unique piece
Coctail Juanita Martínez,
1963
Foto Estudio Luisita
Gelatin silver print; printed 1963
9.4 x 7.5 in
Vintage print. Unique piece
El Maipo en Luna Nueva,
1969
Foto Estudio Luisita
Gelatin silver print; printed 1969
3.2 x 7.1 in
Vintage print. Unique piece
Cena Para Amante,
1972
Foto Estudio Luisita
Giclée print
39.4 x 39.4 in
Edition of 5
Giclée print; printed 2019
27.6 x 27.6 in
Unique piece
Ethel y Gogó Rojo, "El gran final", Maipo Superstar. Teatro Maipo,
1973
Foto Estudio Luisita
Giclée print; printed 2021
35.4 x 35.4 in
Unique piece
Giclée print; printed 2021
39.4 x 39.4 in
Edition of 5
Giclée print; printed 2019
27.6 x 27.6 in
Unique piece
Maipo Super Star,
1973
Foto Estudio Luisita
Giclée print
39.4 x 39.4 in
Edition of 5
Giclée print; printed 2019
27.6 x 27.6 in
Unique piece
Bailarinas,
1981
Foto Estudio Luisita
C-print; printed 2021
14.6 x 14.6 in
Edition of 2
Giclée print
39.4 x 39.4 in
Edition of 5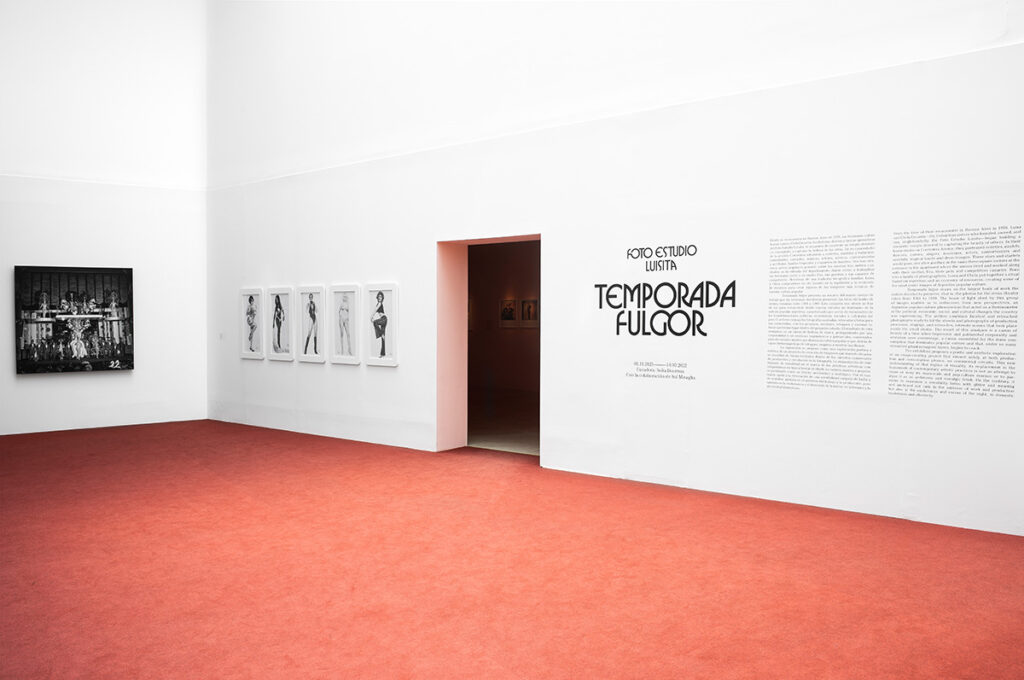 CURATED BY SOFÍA DOURRON, IN COLLABORATION WITH SOL MIRAGLI

A
MALBA


NOV 3. 2021 — MAR 14. 2022